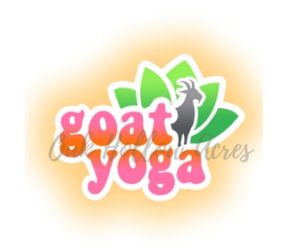 Welcome our page for gentle goat yoga! We are so excited to be able to offer you these classes! Enjoy a gentle vinyasa yoga class while socializing with friendly dwarf goats! Continue to check back for 2024 schedule to be posted!
Give the gift of a gift card to join one of our classes! Contact us at 262-492-4010 or abby@serenity-soapworks.com!!
The farm will open 15min before class. For a map and directions to our location Click Here
​
The word "spanda" in yoga refers to an inner creative vibration that nourishes the heart. When we connect with our innate playfulness, we joyfully expand the vibration of the heart. Goats are peaceful, personable animal therapy companions that add humor and playfulness to our yoga practice. Come to the farm to stretch and strengthen, and experience the benefits of bringing yoga, nature and loving animals together! Children are welcome but they should be able to make it through an hour long yoga class. Please bring a mat or towel, but beware these animals are not potty trained. Feel free to bring your camera to take pictures with the goats after your session. You will also at this time have a chance to purchase some of our wonderful goats milk soap and bath products along with our other organic, pasture raised eggs, and meat. This is held on our own private farm. Sessions will be held outside in one of our grassy baby goat pens, tucked away in our scenic woods. Classes are weather dependent. If inclement weather occurs we will contact you, put a notice on our Facebook page, and offer a refund. If the class is under the minimum of 10 people, unfortunately we will have to cancel the class and offer a refund or option to reschedule. If choosing to reschedule it will need to be during the current yoga season. Our goats LOVE hair – please bring a hair tie to secure your hair if you don't want the goats to nibble on it. Cost is $17 per person. Please note that the class sizes are limited, so please try your best to make it if you sign up. When you arrive, please park on the right side of the road. Our poultry does free range and we would like everyone to stay safe. Feel free to contact us with any questions abby@serenity-soapworks.com, 262-492-4010. Check out our websites www.serenity-soapworks.com where we sell all natural goats milk soap products. We look forward to sharing our goats, and scenic property with you as you enjoy a great yoga session! We also host parties, rather its a birthday, bridal shower, school class, or just want to get some friends together and have all the goats to yourselves! Check out our Private Goat Yoga page or contact us at 262-492-4010 or abby@serenity-soapworks.com for more details and pricing.
Your Teacher: Jessie Vyvyan
Hello! I am JessieV, I am a wife, mother, healer and creator. My business and brand, Chi, Trees and Oils LLC, offers healing services and tools, located inside Riverside Studio, A Crystal Apothecary Shop & Wellness Center, a go-to space for all things wellness, Mind, Body & Soul. I personally provide energy healing services including Reiki, Soul Coaching and Yoga, as well as host super fun events usually scheduled around Sacred Earth Events. Full Moon Meditations and Equinox Gatherings are especially my favorite.
About us
Here at Oak Hollow Acres/ Serenity Soap Works we strive to bring everything local and natural from our farm to your home. Our animals are not just cage-free but free-range as well. They are out on natural pasture with the freedom to do and eat what animals naturally do and eat! We feel happy free-range animals make great tasting and healthy eggs as well as meat. We have free-range Chicken eggs available as well as Duck, Chicken, Turkey, and Goose meat! We raise Nigerian Dwarf goats for their wonderful and delicious milk. This milk is what we put into our natural soaps and bath products. We also have bees that are used to naturally pollinate our gardens and provide us with delicious honey and wax. We use these in our natural and skin care products as well as providing the raw honey that has not been heat treated for sale to our customers. Our garden has organic garlic, vegetables, herbs, and flowers that we also grow and use in our natural skin care products. We believe in a holistic approach to raising animals and making our wonderful skin care products. Continue to check back often for more dates!